UP TO 1.000 € EXTRA CASH!
INCENTIVE FOR NEW DIAMONDS*
All of the new Diamonds from Bulgaria, Czech Republic, Estonia, Latvia, Lithuania and Poland that qualify between February and December 2018 have the opportunity to win up to 1.000 €.
To win extra money through the Diamond Plus incentive there are 3 basic requirements that need to be completed:
Qualify as new Diamond*
Must have the Loyalty Program activated (with at least 125 LP)
Accumulate three level volume
HOW TO WIN EXTRA CASH?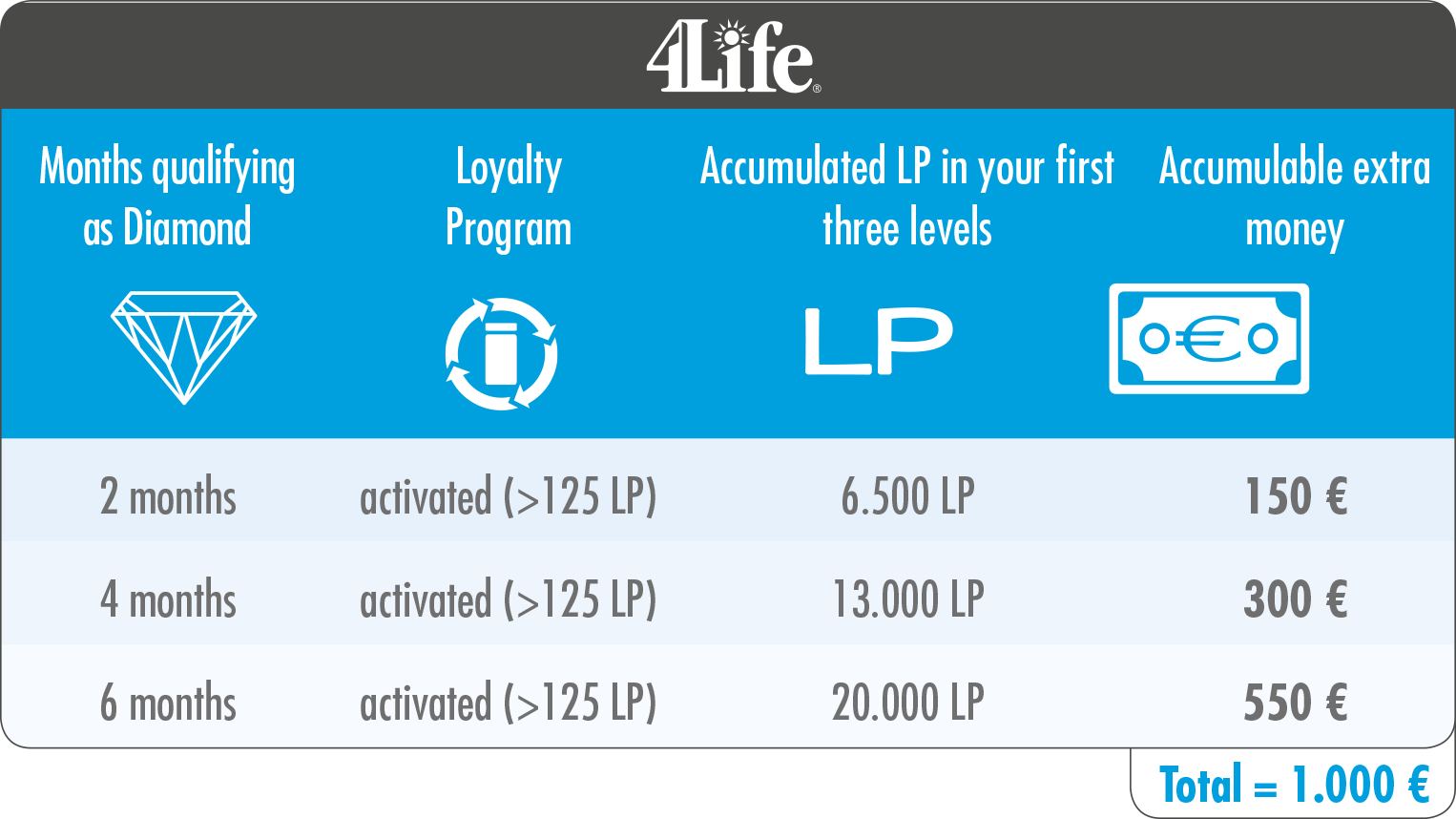 CONDITIONS
This incentive is exclusively for newly qualified Diamonds in Europe (valid only for Lithuania, Latvia, Estonia, Bulgaria, Czech Republic and Poland) between February and December 2018. (Distributors with an european 4Life-ID only).
If you qualified as a new Diamond in January 2018 you can still participate, but you must complete the requirements during the incentive period: between February and December 2018.
The new Diamond must have completed and sent in all required registration documentation to the 4Life office to officially be a 4Life distributor. Without this documentation the participant is not considered an official 4Life distributor and thus not eligible to win the Diamond Plus incentive, even though they have completed the qualification requirements and accumulated LP.
4Life reserves the right to cancel the reward based on the criteria in the Policies and Procedures (for example returns and point manipulation). Any breach of the policies will result in disqualification from the Diamond Plus incentive.
Each time that the Distributor qualify as a Diamond, the automatic shipping order of the Loyalty Program must be activated with a minimum of 125 LP.
The LP is only accumulated for the months in which the Diamond qualification is achieved.
The cash prize will be paid out in the month following the completion of the four requirements.
The new Distributor code arising out of a sale or transfer of business, is not considered new code, so it is not legitimated for this incentive.
DOWNLOADS